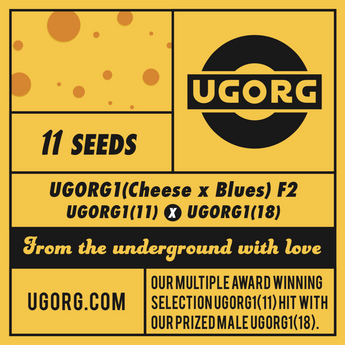 UGORG#1 F2
Regular price £111.00 Sale
Pack Contains: 11+ Seeds.
Type: Sativa/Indica Hybrid.
Parentage: UGORG#1(Cheese x Blues) x UGORG#1

A bit about UGORG#1..
Harvest Indoors: 8 – 10 weeks, depending on psychoactive effect sought. For brighter, more "Sativa" highs, crop at week 8 - 9. For a more robust (and perhaps a more "Indica" hit), crop at weeks 10 or 11.
Harvest Outdoors: October, unless the onset of flowering is "Forced", in which case, see above.
Yield: Hefty, well above average. Naturally, this will depend on the grower and his/her skills, but even the most novice grower should be pleasantly surprised by a bumper crop. The more seasoned growers will also be pleased with the yield, as the Gram-Per-Watt target is easy reached, even under lower lighting conditions.
Smell & Taste: You will most certainly require a working Carbon Filter when growing UGORG#1. The aroma of both parents is clearly to be smelled. One day Cheese, another day, Blues! Toward harvest the smell becomes more robust and unique, and is best described as "Screaming Cannabis!" The smoke is smooth and easy on the throat, leaving the tongue to enjoy the fruity Blues taste wedded to a wonderful hint of true Cheesy goodness.
Hit: UGORG#1 has a hit that is neither fully Sativa nor fully Indica, and is therefore neither pure "Rocket Fuel", nor is it "Couch Lock". Instead it is a potent, and robust blend of the two, producing a disposition that is giggly and "high" alongside a relaxation of the muscles and a warm, weightless body sensation. Every one who has smoked this weed to test it has found it impossible to stop smiling and grinning, and laughter has mostly followed on. UGORG#1 is also excellent medicinal cannabis, and will help many to handle symptoms of varying kinds.
With special thanks to: Oldtimer1 & cheese_farmer.
Warning! Germination of cannabis seeds is illegal in most countries. These seeds are sold by ugorg.com as collectable adult souvenenirs to help preserve the cannabis genetics for future generations.
Please do not ask questions on how to grow these seeds as under current legislation it is illegal to grow them or encourage their growth through giving advice.
All seeds are sold as souvenirs only and are not intended for illegal use.
All products advertised on this website are for novelty value only, they are not intended for illegal use. Certain products advertised herein may not be legal in all countries that this website is available in, we hereby ask all visitors to this website to check their country's law before ordering certain products advertised on this website. ugorg.com does not want to induce anyone to act in conflict with their national law. ugorg.com cannot be held responsible for those who do.