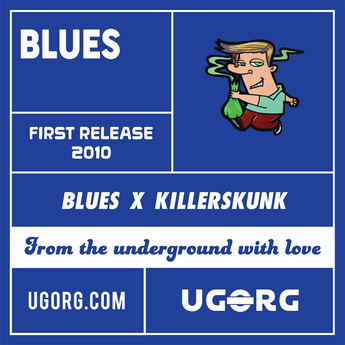 Blues
Regular price £80.00 Sale
Pack Contains: 11+ Seeds.
Type: Sativa/Indica Hybrid.

Parentage: UK Clone only Blues x KillerSkunk

Harvest Indoors: 8–9 weeks after starting 12/12 light-cycle.
A bit about Blues: The first pull on a Blues spliff is sure to please. The aroma, so satisfying to the nostrils, translates into an exquisite taste which all but defies description. Suffice to say that few people report anything other than a taste revelation of delightful character. Sweet, and hash-heavy, the taste washes over the tongue as you draw in. The exhalation confirms your suspicions - this is some tasty weed! Leave tobacco out of the mix, and you will grin from ear to ear as the sweet, resinous taste coats your tongue.
Not that its all about the taste! Heaven forbid No, no - after about six puffs the first thing to be noticed is the vanishing sensation as your feet seem to disappear. The body feels light, relaxed, mellow. The mind is stimulated in a huge rush of cerebral energy. Writers will Write, painters will Paint singers will Sing - all with huge inspiration and new-found confidence! The Blues is heart lifting, mind expanding cannabis! You will not be able to resist the grin, the huge, fat grin that is the hallmark of all truly awesome Cannabis. This is happy weed, the sort of giggle-some, laugh - creating stuff that older generations of stoner love to reminisce about. Its like your back in the sixties, man, groovy psychedelia abounding on every side.
Smoke more than a bit and then the second characteristic kicks in as muscles relax to new found levels and the head feels wrapped in a cool, refreshing "band" type buzz. Wrapped in top-to-toe comfort, grinning from ear to ear, giggling at nothing in particular.... What's not to love about this fabulous strain which seems to have roots going back way into history?
Warning! Germination of cannabis seeds is illegal in most countries. These seeds are sold by ugorg.com as collectable adult souvenenirs to help preserve the cannabis genetics for future generations.
Please do not ask questions on how to grow these seeds as under current legislation it is illegal to grow them or encourage their growth through giving advice.
All seeds are sold as souvenirs only and are not intended for illegal use.
All products advertised on this website are for novelty value only, they are not intended for illegal use. Certain products advertised herein may not be legal in all countries that this website is available in, we hereby ask all visitors to this website to check their country's law before ordering certain products advertised on this website. ugorg.com does not want to induce anyone to act in conflict with their national law. ugorg.com cannot be held responsible for those who do.